Reading Time:
6
minutes
It could happen to anyone, you're sat in a great little restaurant in Indonesia and someone suggests that you do a cycle tour of local home industry.
Naturally what I should have said is, "You must be joking! This is Java's second largest city, the roads have at least 6 times the amount of traffic they can cope with, lane discipline is non-existent, thousands of motorbikes zoom in all over the place at random, I've not found a single working seatbelt since I arrived and I'm pretty sure that every single one of the myriad of trucks is on Euro NCAP's top 10 blacklist of cycling death-traps".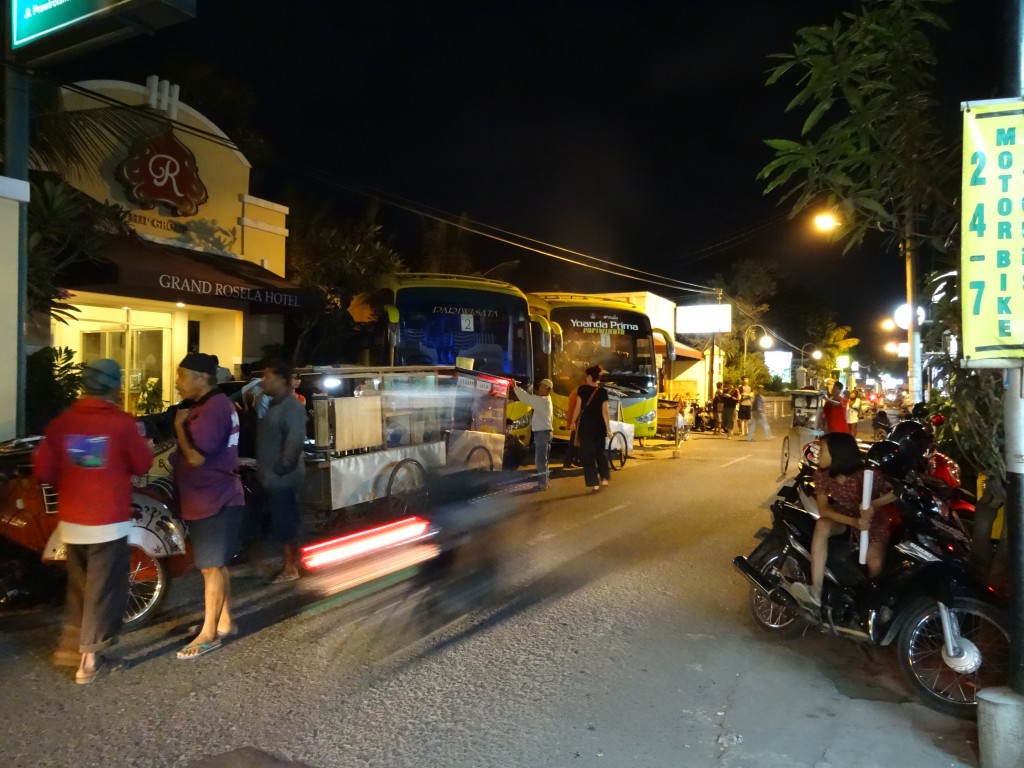 That's what I should have said. I have however been to India and I still have the image of a very brightly coloured but nonetheless very heavily built truck burnt on my retinas from when my tuk-tuk driver went through the central reservation into the fast lane of the opposite carriageway. Apparently it was "less busy", apart from the enormous pile of steel hurtling towards us at 50mph, that is.
I have no idea how we got back on the right side of the road – either my brain has chosen not to remember or my peril sensitive sunglasses went blacker than a priest's socks.
After that I figured that a cycle ride around Yogyakarta was small beer so I put my name down immediately. The trip was actually organised by one of the travel agents on Jl. Prawirotaman – I'm just not sure which one it was because it was ultimately Intrepid Travel that it was done through.
Anyway, at 8am our steeds were ready to collect. There was some degree of choice – although I'm not quite sure how I ended up with the little purple number. Unsurprisingly it was exactly like riding a mid range 1990s mountain bike that's slightly too small. It was the "too small" element that I found irritating, if it wasn't for that I might have been tempted to try to sneak off with it…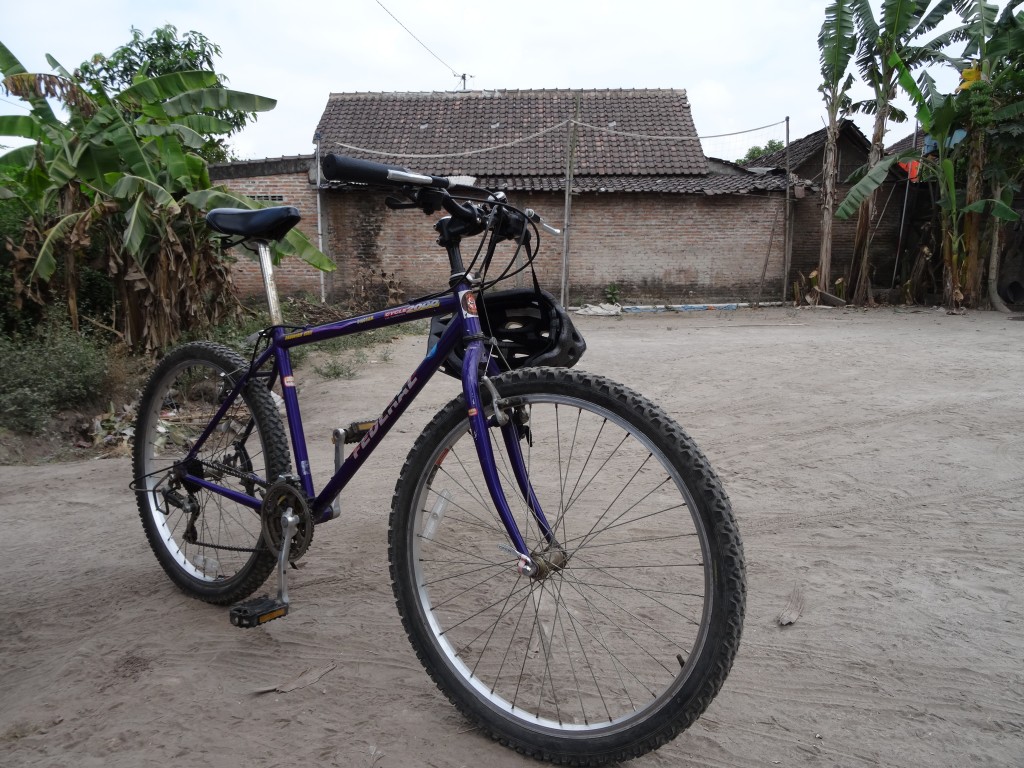 My partner however selected one of a number of more traditional looking bikes. This was a decent piece of equipment – complete with V-Brakes!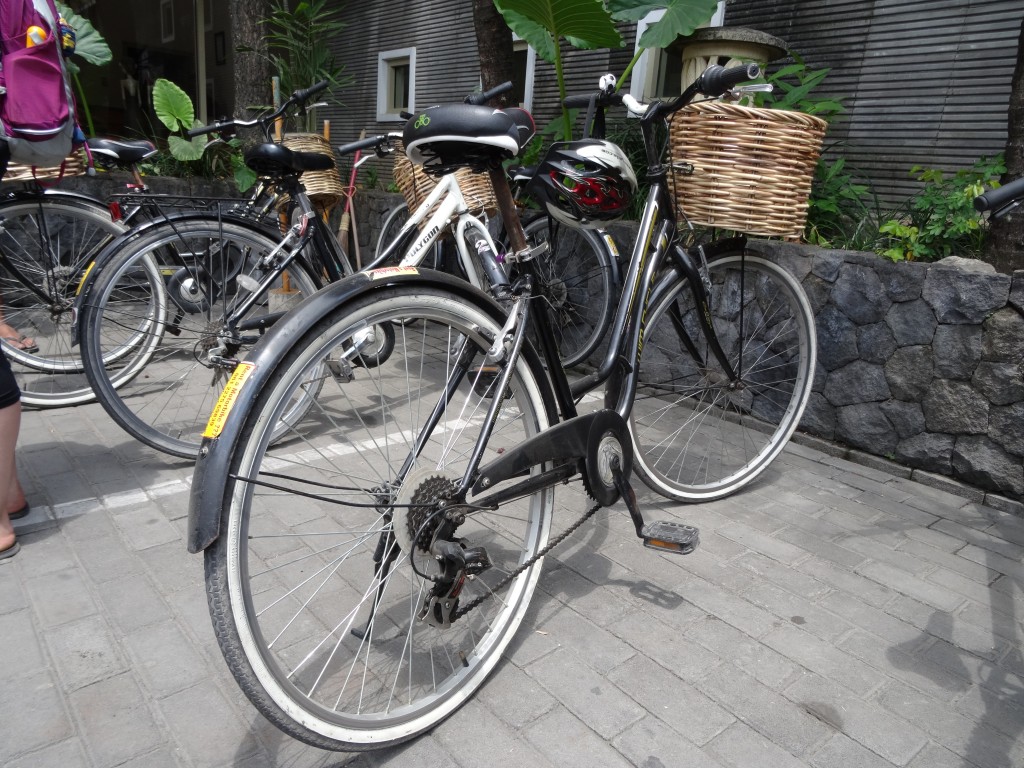 Despite the variable age of the bikes they were all well looked after; there were no nasty noises, no frayed cables, the gears functioned without a hitch and the brakes were well adjusted and keen.
Now, you will have to excuse the lack of any real action photographs. You will understand that photography was rather low on my agenda for most of this trip – somewhat below not being run over by a truck, side-swiped by a motorbike or blundering into a drainage ditch full of monitor lizards.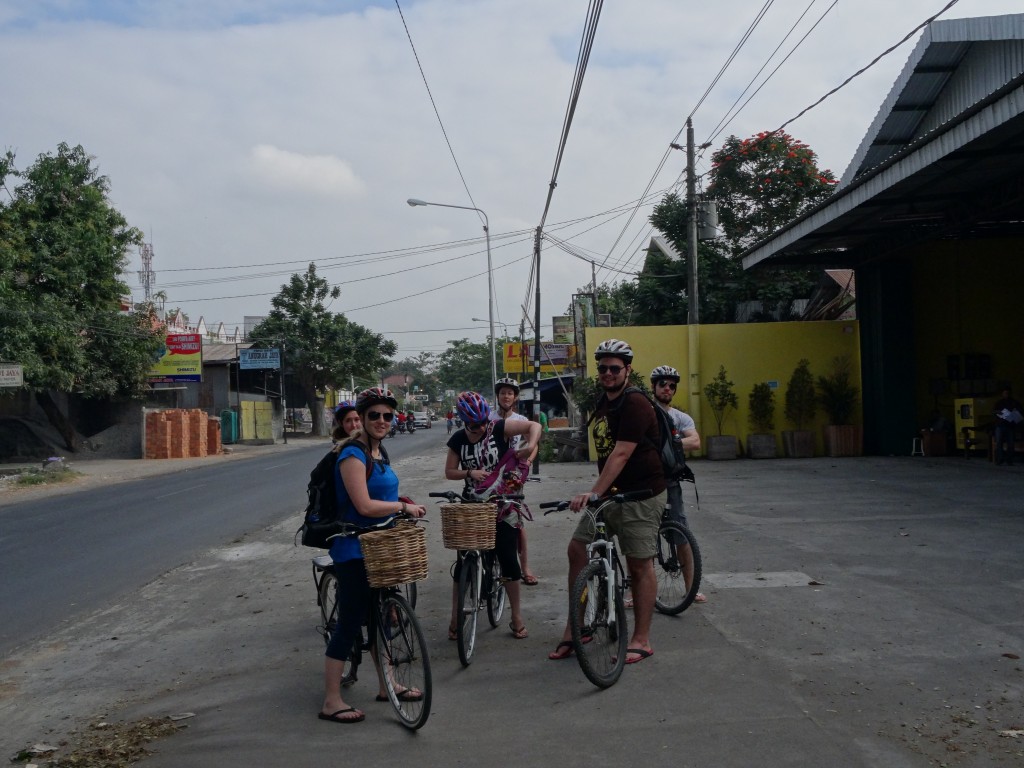 Predictably, just about as soon as we set off there was a mountain of traffic on our tails waiting to get past. That was the strange thing though, it was waiting to get past. It wasn't nibbling at our back wheels as if our presence on the road was an offence to the gods of motoring. It actually felt strangely safe – each vehicle waited until it was safe (well, safe for Indonesia) then gave a quick "pip" of the horn to warn that it was overtaking. It was all rather civilised and not at all the chaos I was expecting to have to deal with.
The fact is that in Indonesia the roads are full of all types of vehicles that travel at different speeds. In a modern car you're perpetually behind something slower. So this is what road users in Indonesia expect – they don't get frustrated with slower moving traffic because even if they can blast past this one they'll only get a few yards before they come up behind something else slow moving.
In the West we seem to think that we have some sort of right to drive at – or slightly above – the speed limit. As a cyclist the fact that this is not the philosophy of Indonesian road users at all was really very refreshing indeed.
The other refreshing thing about the traffic is that the flows move and change, adapting organically to changing circumstances. Throw out a signal and you can feel the traffic start to adapt, sometimes to the extent that a space appears for you to move into. Road users in Indonesia cooperate with each-other because that way everyone gets to their destination faster.
I was genuinely surprised, I would definitely cycle in Indonesia again, in fact I'd rather cycle in Indonesia than in some European locations and certainly more than in the USA.
So in between marvelling at the road systems we dropped in on a few home industries – this model is big in Indonesia. Small, generally family run concerns just big enough to buy machinery and make some use of economies of scale.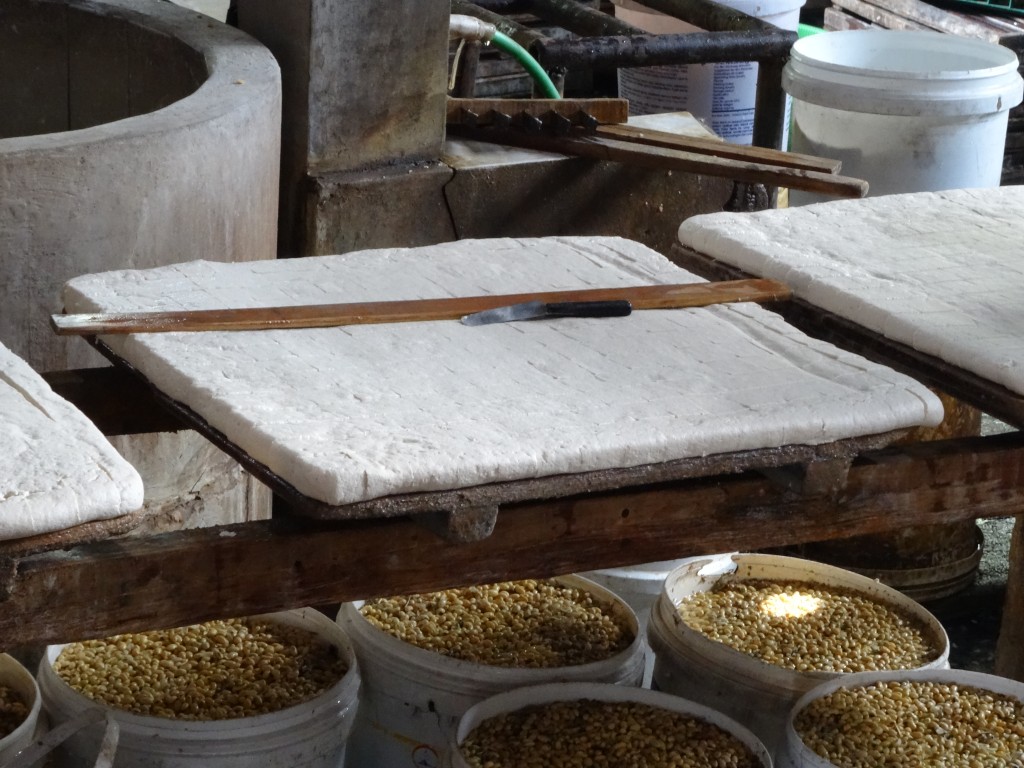 First we discovered how tofu is made – in an anonymous looking farm building all of about 15m square. It was mighty hot in there though – not a job I think I'd have much stamina for. Nevertheless it transpires that making tofu is really quite simple. I may have to try it at some point!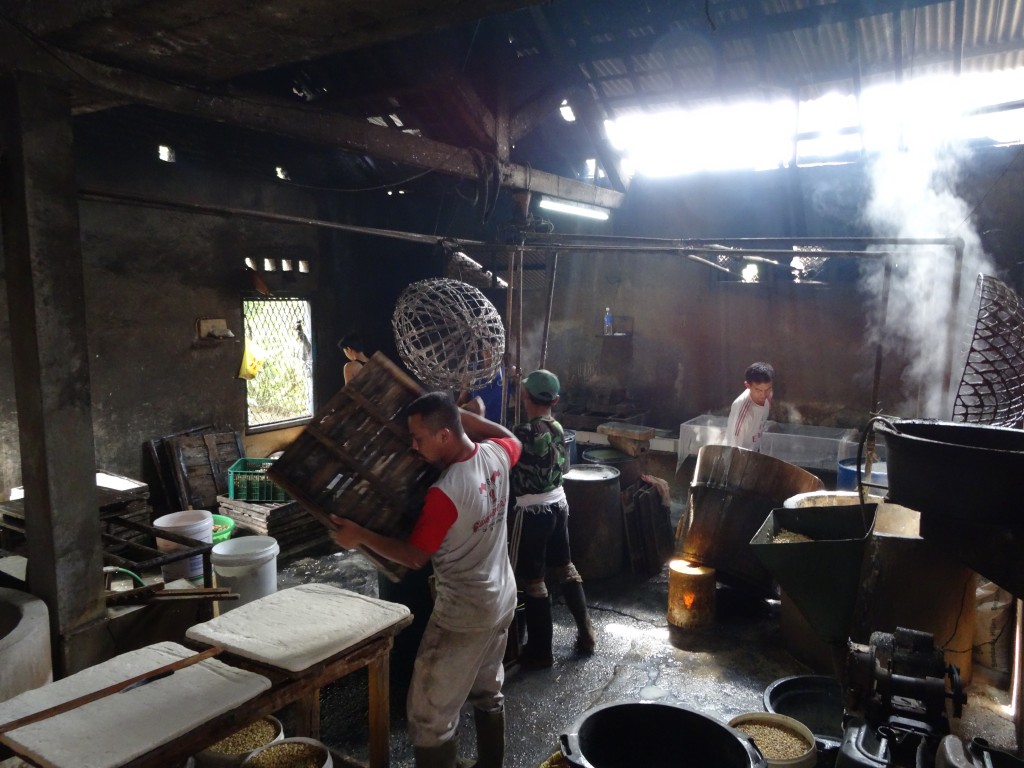 It was on the way to the rice fields when I noticed just how easily I'd dropped back from my modern disk / v-brake "3 fingers round the bar, 1 finger round the brake lever" to the old "3 fingers round the brake lever, one round the bar" that was needed with cantilevers. The importance of this fact is almost entirely due to chickens. In Indonesia it appears they have taken the place of the pheasant as the creature most likely to hurl itself under you wheels for no good reason whatsoever.

Then our guide started complaining about his tan lines. I'm not quite sure who wins, I think we're about even…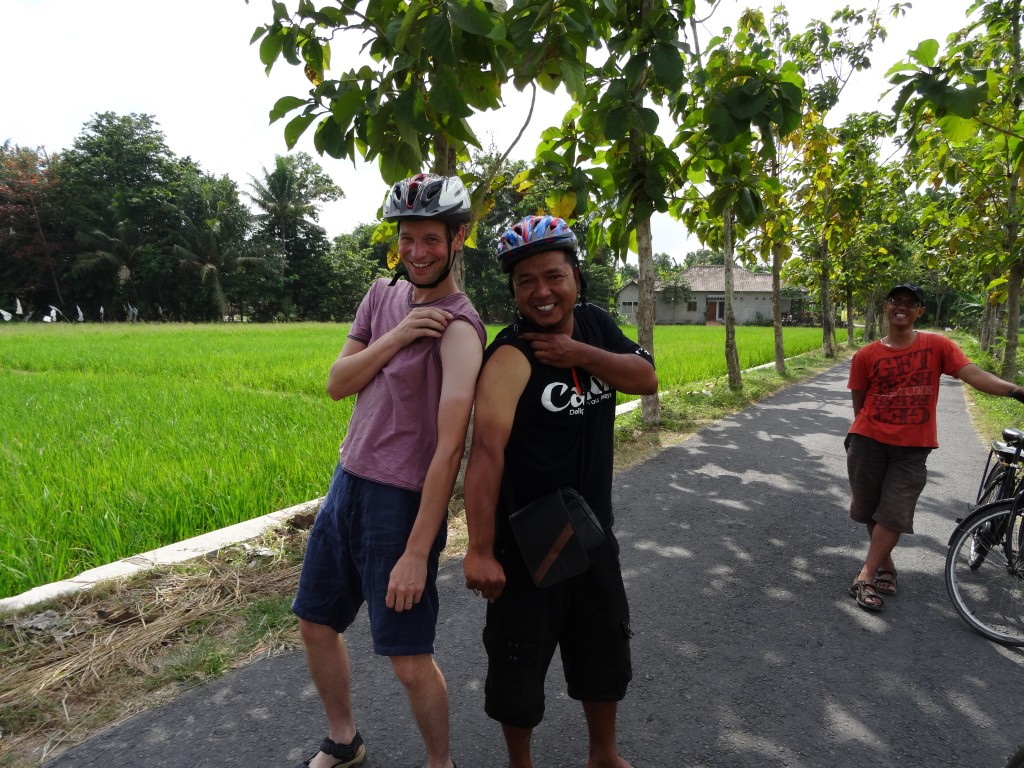 So I now know a lot more about the production of rice and it's labour intensive stuff, lots of people working long hours in heat that never really drops below 30 Celsius.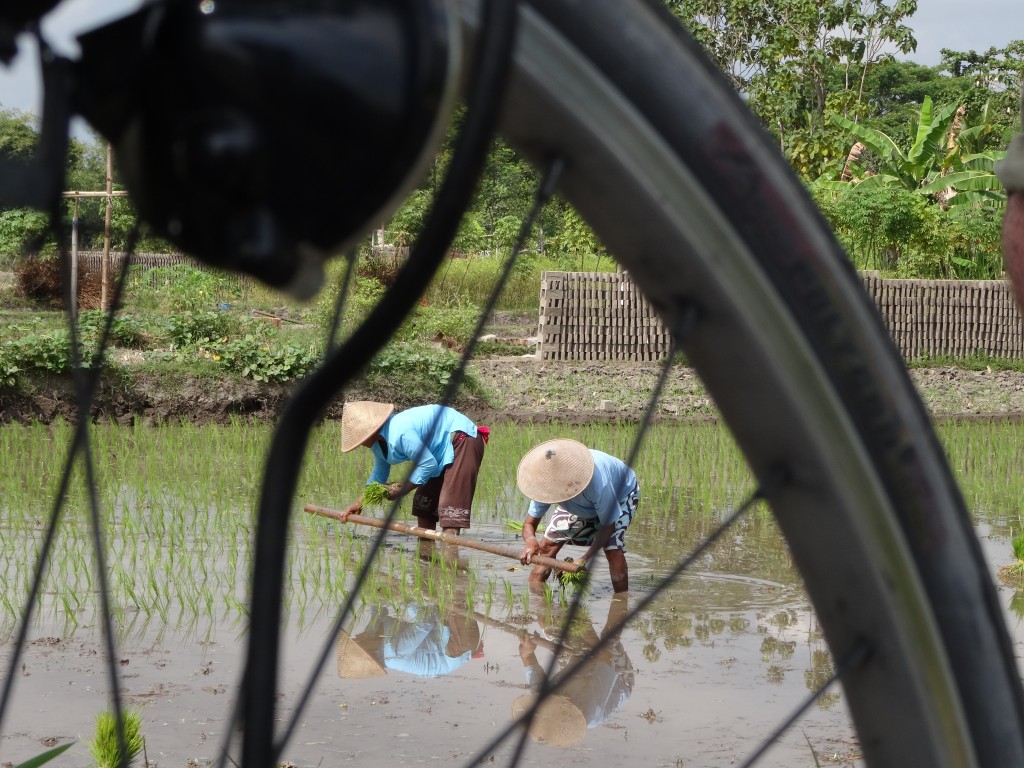 Cohabiting with the rice fields are people making bricks. There doesn't seem to be much set-up as it were, just a couple of buckets and a frame. The bricks are left to dry out in the sun before being "burnt" as our guide described it.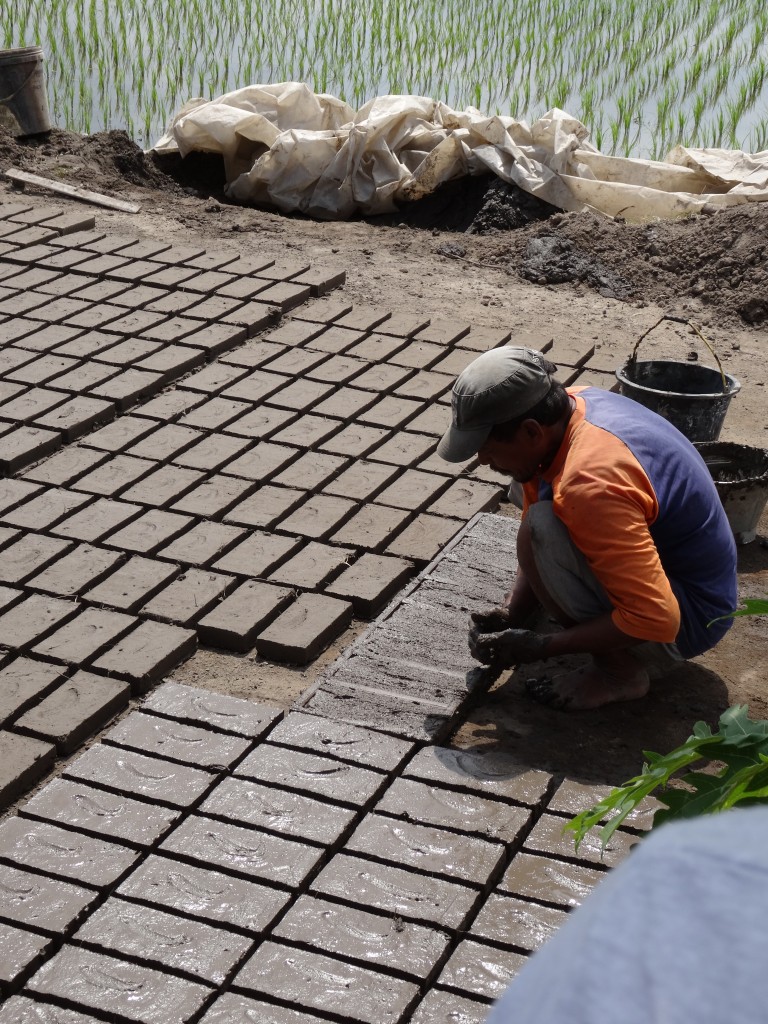 The final home stop of our trip was at Kwt Rahayu's modest home, for a lesson about tempeh. Soya beans are wrapped in banana leaves and left in the sun to ferment naturally. The result is partially fermented soya cake – it's still got some crunch left to it and the fermentation process develops a wonderful flavour.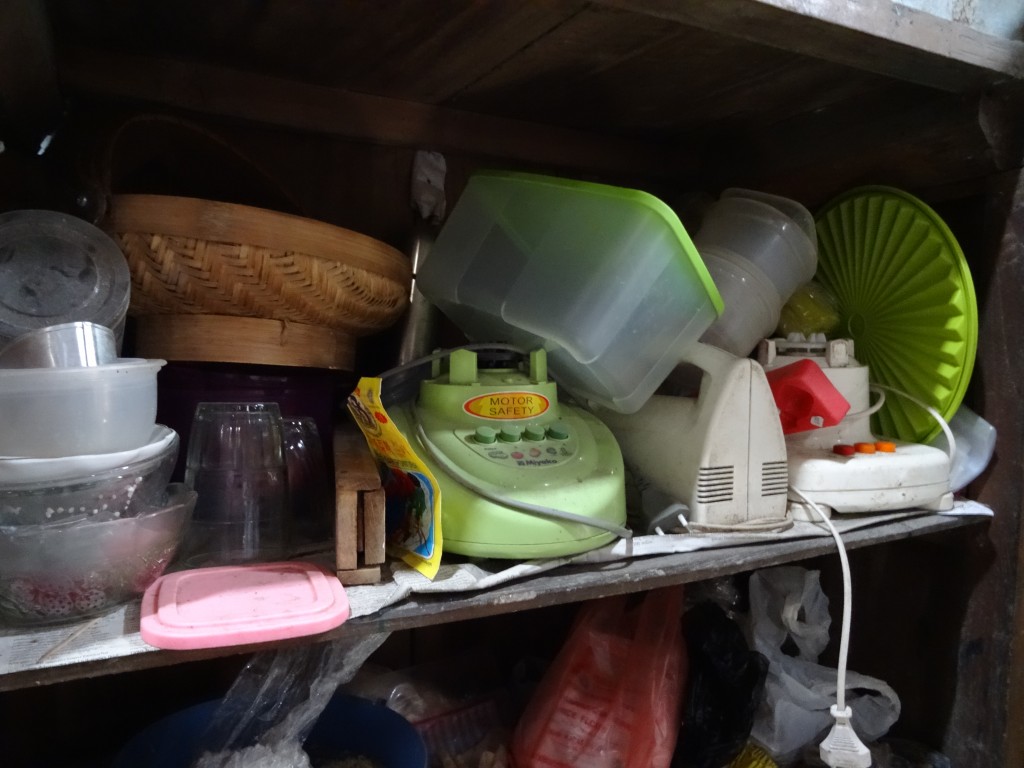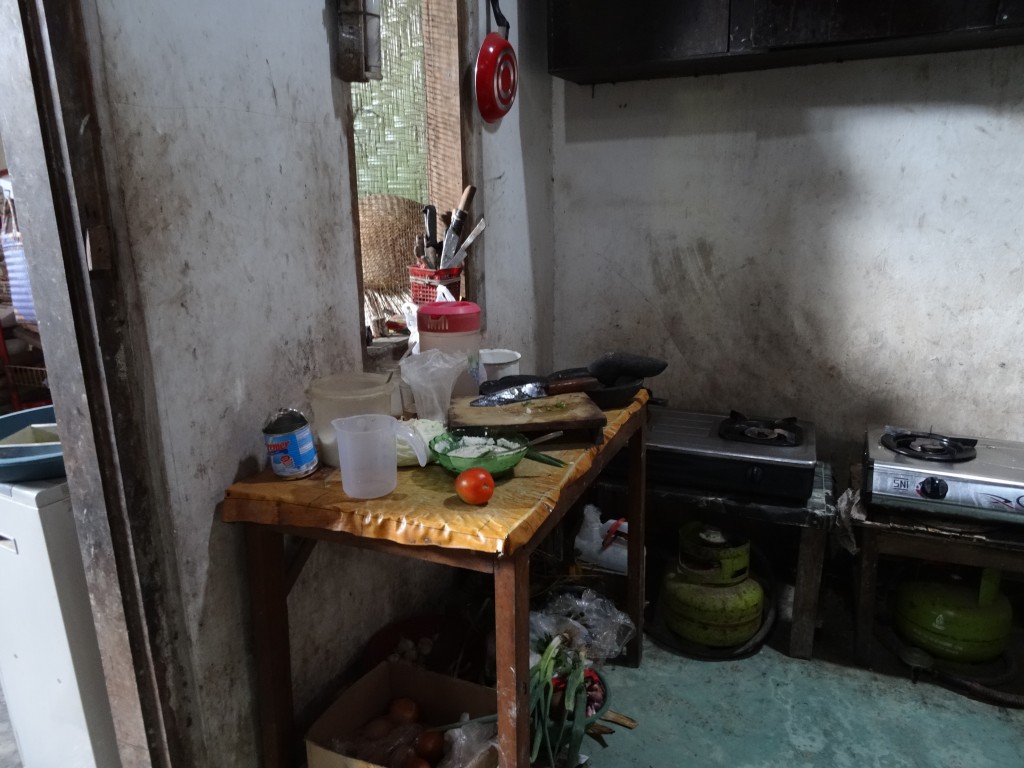 Kwt Rahayu has a lot of trophies and some of them at a national level – "almost all", explains our host, "for tempeh".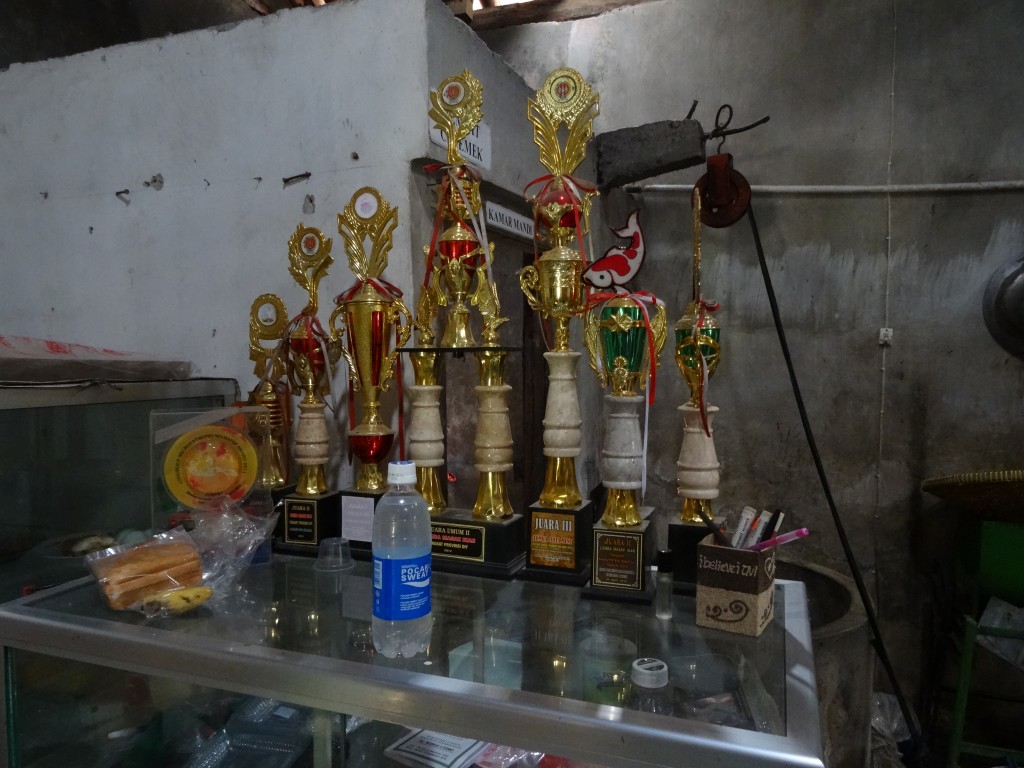 We then dropped in on a batik "factory". Actually it was a showroom and this always makes me a little suspicious about the finances and the working conditions. They weren't at all pushy however, a fact that gives a certain amount of confidence.
By now it was late morning and it was beginning to get hot so we headed back into the city. On the way though we spotted another of Indonesia's home industries…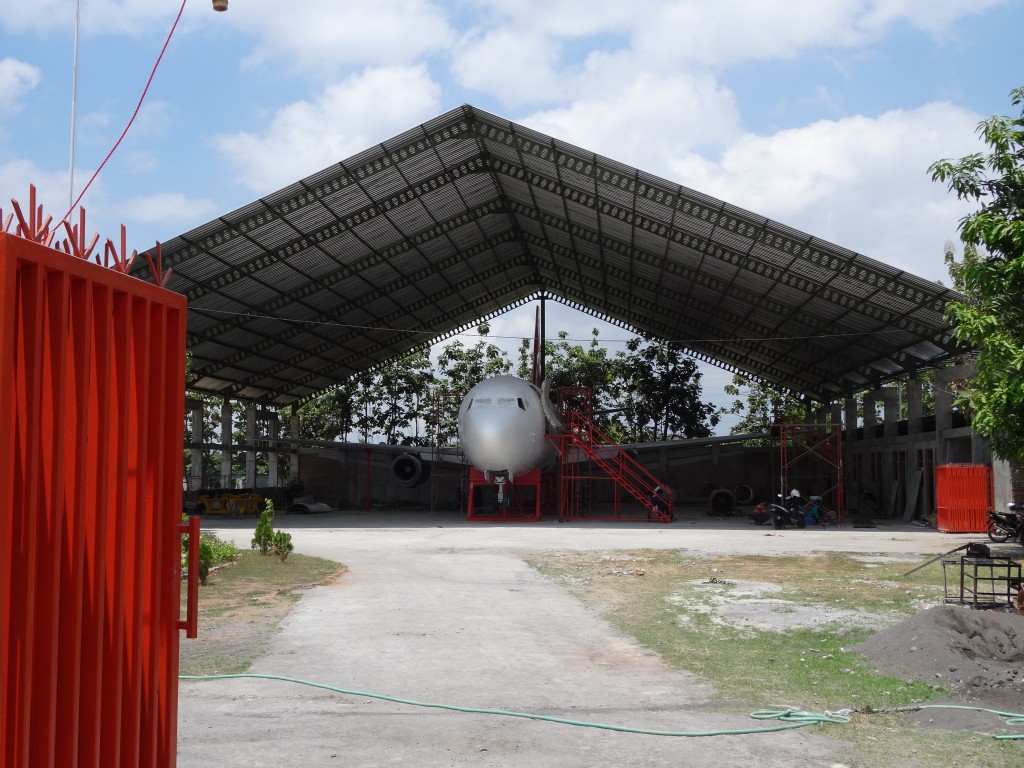 OK, so they're not actually building planes in small commercial shelters, this is actually for training. But it's still rather a strange thing to come across on the outskirts of Yogyakarta!
By the end of it all I was really quite fond of my little purple mountain bike, I really didn't want to have to give it back. I didn't want to get on the plane back home either – Indonesia is a spell-binding country, I could have easily spent a couple of months there, not just a couple of weeks.