Reading Time:
2
minutes
Up until very recently I hated Yoga. I did it through gritted teeth. Then I discovered this one weird tip that could change your life forever.
I know, I should give up trying to write clickbait and stick to what I'm good at – but the weird tip thing is true.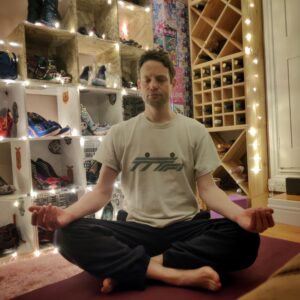 The tip is to accept that you're a beginner.
That was a hard pill for me to swallow, because I'm one of those super-annoying people who seems to pick stuff like Yoga up. I can feel people rolling their eyes as, 5 minutes after trying something new, it seems like I've been doing it for years.
Yoga wasn't like that. It took a hell of a lot of effort and just basically hurt. It was not the relaxing, fulfilling experience that was pictured on the packaging.
I did not find myself magically transported to an empty beach in the tropics. It did not spark joy.
Two weeks ago I bit the bullet and signed up for a beginner programme, 20 minutes a day, a gentle introduction. There's been a lightbulb moment in pretty much every class so far. If there was something I could do wrong, I pretty much was.
Suddenly now I get it. I understand it. It works for me and I actually look forward to the next class.
This article isn't about me, though. It's about pride. It's about assumptions. It's about having the fortitude to swallow that pill and accept where you really, truly are and that the road to where you want to get to might be longer than you'd want.
It's even about having the humility to accept that, at some point, you might have been further forward than you are today.
I know every cheesy self-help book or blog says it, but it is true; even a journey of a thousand miles starts with a single step.
We need to have the courage to make that step, to understand what it means, to consolidate that position – even if it is a way back from where we wanted to be – and to be prepared to take the next step and the next step.
We need to learn that it doesn't really matter where we're starting from. The only thing that matters is that today we can smile, knowing that we are a step forward from where we were yesterday.