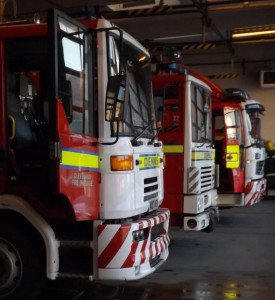 In October 2015 I left Seed Software. However over the previous 7 years I'd been proud to be part of building what was a start-up project with just 3 professional staff into one of the foremost suppliers of software to the UK Fire Service.
Seed Software began in 2005, it was the brain-child of Dr David Grey and Dr Peter Robinson who were trying to come up with ways of bridging the gap between industry and education.
The problem is simple; teaching technical skills is a well developed area but it's not just technical skills that a person needs to be effective in industry. There are a lot of other skills that it's not just difficult to teach but it's difficult to even quantify. What better way to try to teach these skills than to actually give students experience in real business?
With the help of the European Social Fund and Microsoft UK Seed Software became a reality and made rapid progress, quickly establishing itself as a credible supplier of communications and field worker technology. By the time I joined in 2008 it was fast becoming one of the biggest suppliers of mobile data and communications software to the UK Fire Service.
The goal at Seed was to build a team that was a mixture of new unemployed graduates and seasoned industry professionals. There were a few changes along the way: a new programme was introduced for final year MEng students; a new intern programme was introduced for students taking a year in industry, unfortunately however due to the ever present "circumstances beyond our control" the graduate programme had to be stopped – but not before Seed had placed more than 50 unemployed graduates in permanent professional employment.
Seed also linked The University of Hull with the software market, with suppliers and other businesses and gave the Department of Computer Science a valuable conduit by which the brilliance of its academics could be brought into the practical domain where it made a difference to business and to people's everyday lives.
A Pioneering Approach
At Seed Software we made the conscious decision to use the latest technologies and methodologies to produce software. This strategy meant that we were able to be far more responsive than any of our competitors. Seed's BRIGID Software Suite gained a lot of fans within the Fire Service. When I left in October 2015 Seed's software formed core parts of the infrastructure at several Brigades around the country.
The reason I was recruited was that in 2008 Seed was asked to look into producing a mobilising system – the primary call handing and dispatch system for a fire service. I led the development of "BRIGID Command and Control" and oversaw its delivery into the first two fire control rooms. In October 2015 it was the primary mobilising system in 3 fire control rooms and had excellent prospects for the future.
Seed no longer exists, shortly after I left it was rebranded and appears now to have departed from its original ethos.