Reading Time:
5
minutes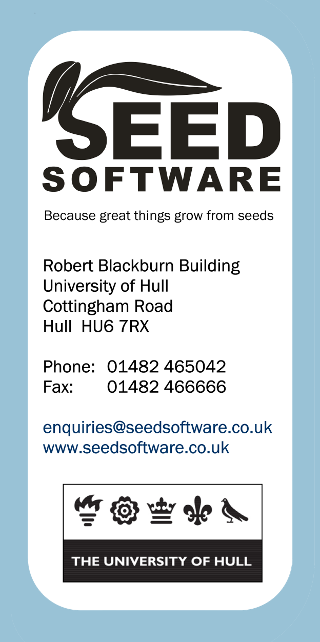 I'd been working for Seed Software for a few short weeks when the manager announced that he was going snowboarding for a week. "Who's in charge whilst you're away?" I inquired, "You are!" came the reply.
Over a year ago I posted the story of how I came to work for Seed Software, but the story didn't end there. There's the small matter of what happened between then and me leaving Seed in October 2015. It was quite an experience. I'm not sure if people take me entirely seriously when I say that I learnt as much in Seed as any of the interns or students but it is nevertheless true.
So I'd just about worked out where the stationary cupboard was and suddenly I was being asked to run the business. This was definitely not in the job description for a software developer but before I made that point I took a moment to think about it. I'd spent the past few years in my previous company trying to convince the senior management that some software developers understood more than just matters technical. I'd had some success, but here was an opportunity for me to prove it by stepping right into the front line of running a business, if only for week.
Nothing much happened, it was rather an uneventful week. I don't know if I was more disappointed or relieved. Nevertheless it cemented my position as being very actively involved in the running of the business of Seed Software.
After that I started getting down to trying to learn WPF and WCF, neither of which I'd used before, and trying to build a Command and Control system. I'd got out on the road a bit too, the C&C was very much developed with the Fire Service which meant frequent visits to site with the latest developments to make sure we were all heading in the same direction. I'd also been to a few of the other sites because although the other products were managed by the Seed Manager there was only one of him and we needed some resilience.
It was that need for resilience that soon bit us, "Tom," the Seed Manager said, "Erm… I've double-booked myself. I don't suppose you could cover a sales presentation next week? I've got the slides and everything."
This wasn't entirely unexpected. I'd known before I joined Seed Software that it was just a software development team. There were no sales, marketing or operations staff. A business can't survive without these functions though which left only one conclusion: the development team were doing them. This is actually one of the things I found exciting about Seed, if the business was going to work and I was going to be successful within it I knew that I was going to have to get involved in these functions to a much greater level than I ever had been before. Sure I'd been to sales presentations, I was actually a bit of a regular, but I'd always been the "technical expert" that answered the questions that the salesperson couldn't. I'd never actually delivered a sales presentation before.
As it turned out Seed's presentation was part of a much larger event where several suppliers were pitching their wares at a group of senior fire officers from many services across the country.
This was a great learning opportunity for me – I was on relatively late in the day which meant that I had a lot of time to watch what the others presenters did and tune my own performance. I was expecting swish, professional salespeople to glide in and deliver polished shows that would make mine seem shambolic and amateurish.
That is not what happened. They were all professional enough but there was no performance, no spark, no charisma.
By my slot half the audience had been struck down with a nasty case of…
.
This is where it struck me how just how different Seed Software really was in 2009, there was nobody else like us there. I had some Powerpoint slides, just to get across some of the key information, but most of our sales presentations were live demonstrations of the kit. This, it transpired, was a breath of fresh air. I was able to engage with the audience, sleepy heads popped up and started asking questions. I ran out of business cards and had to start writing my details on the back of potential customers' ones.
I was beginning to settle in to Seed, I was a lead developer, software architect, product manager, deputy business manager and occasional sales guy. The phrase "can do attitude" crops up in a lot of places and generally it means something it's not supposed to but in 2009 / 2010 Seed Software embodied it in its true sense. It didn't seem like there was anything that we couldn't make work somehow.
2011 was not so kind to us. The business was growing too fast for The University to react and we were all having to put in way too much work just to keep our heads above water. To make matters worse the Seed Manager ran into a spot of bad luck – a couple of serious accidents ruled him out for extended periods of time. I found myself trying to develop the Command and Control, project manage delivery to the first control rooms and the subsequent go-lives and manage the business of Seed itself.
It was insane, one day I looked at my timesheet and I'd accumulated 28 extra days of time-off-in-lieu. I had to offload the management of the business to the department's Enterprise Director, or I would have burnt out.
Despite the workload Seed was still a hugely positive, exciting place to work. What we'd achieved was pretty amazing too, two industry professionals and a bunch of students had successfully developed and delivered a mobilising system – the single most important computer system in a fire service – into two live control rooms.
The workload however was still out of control. Even with the Seed Manager back full time it was clear that we needed to make big changes. The Seed Manager position was actually a hybrid position, half developer, half manager. It was obvious that managing the business alone had now become a full time job. The role was therefore split into two, a senior developer and a dedicated business manager.
Preferring to retain a technical role, the Seed Manager left. I had also planned to leave – I knew that a chapter in the development of Seed Software was coming to a close. Seed was going to change, it was going to become more established, less dynamic. I also wanted to move back here, to Suffolk.
I did move, but I didn't leave Seed. The University rather unexpectedly offered me a remote working contract. This threw up a whole myriad of new challenges. When I first became a remote worker I thought I'd be knocking out a steady stream of blog articles on what the problems were and how we were trying to solve them.
That's a subject for another time however. As for the story, In October 2015 Seed was about 3 times the size it was in 2011, had a lot more products than it did an had begun to offer a support function. Brigid Command and Control is was well established as the primary mobilising system in the control rooms of 3 of the UK's Fire and Rescue Services.
That just about brings my story at Seed to a close. But what about the future of Seed? The changes I predicted have certainly happened: I believe that Seed Software will become a highly successful business.