Reading Time:
2
minutes
It hit me like a train when I realised that one of my toughest battles against racism would be with myself, simply because of the environment I grew up in.
My parents were against racism, my schools were against racism. 1/6

— Tom Fosdick 🏴󠁧󠁢󠁥󠁮󠁧󠁿🇬🇧🇪🇺 (@sinibar) August 1, 2019
In fact all the institutions I dealt with were [or claimed to be] against racism. They were however white. Books were white, TV was white, culture was white, science was white, the law was white, power and influence were white. That gets baked into you whether you like it or not.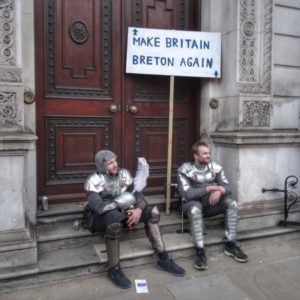 Why was there a brouhaha when black actress (Noma Dumezweni) was cast as Hermione Granger in The Cursed Child? Because people, many of whom would say they were against racism, just assumed Hermione was white.
Rowling's description of her doesn't specify or even imply: it is distinctly indistinct. Instead it concentrates more on her character and how clever she is. We – me included – just assumed she was white. Why?
Because she's privileged, because she's bookish, because she's clever, because she's powerful, because she's a heroine. All these cues refer back to the environment most Westerners grew up in and they all tell us that she's white. We don't think about it, we just assume it.
We might not think this matters because we think we make all important decisions consciously where we can weigh up the evidence objectively. That however is far from the whole picture. We make thousands of decisions every day without them ever fully surfacing into our consciousness. Similarly we send out thousands of signals that we're not consciously aware of.
Those biases that have been baked into us by our upbringing do still have an effect, a very subtle effect, but it's there nonetheless. If it's just one person then it's insignificant, the problem is that we're not just one person, those of us who grew up in an almost exclusively white environment are a majority. On top of this almost everyone in the UK grew up – and continue to grow up – in an environment where the vast majority of significant institutions are predominantly white.
What can we do about it? We can't undo decades of programming simply by wishing it away. There is no silver bullet. We have to acknowledge that it's there, to be aware of it. We have to be aware that no matter how much we believe in equality, we can occasionally be guilty of accidental racism. We have to accept that, for people with my kind of upbringing, just being ideologically opposed to racism is not enough. If we are not actively fighting against racism then we are subconsciously contributing to it.
We have come a long way to eliminate conscious racism from the majority of the Western World. We still have a battle to fight, especially at the moment, but we are making steadily making progress and in the end we will win.