Reading Time:
4
minutes
September 2020
"That," I thought, looking at the TV advert, "is a cracking business idea". Market a swanky bike at the cash rich, time poor urbanites. I bet every subscriber has an Apple watch, suckers!
Peloton? Pah!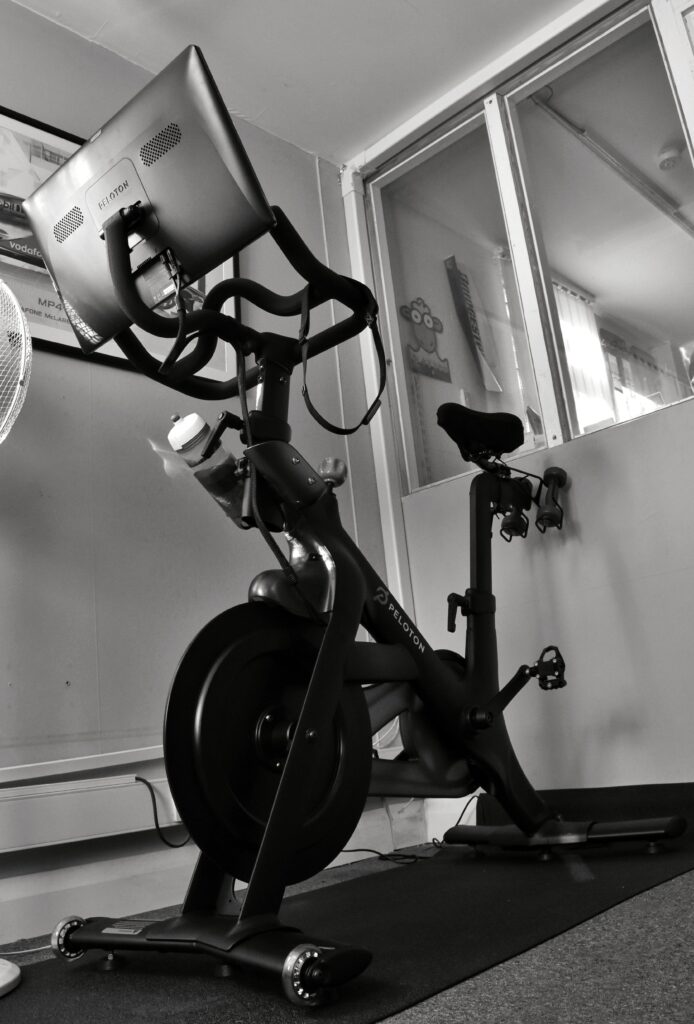 It will not surprise you to learn, then, that I absolutely have not placed an order for a Peloton bike and I definitely do not have a Peloton subscription. I would also like to point out that the parrot is not dead, it's resting. Beautiful plumage, the Norwegian Blue.
What on Earth possessed me to get on board this particular train then?
When I was a kid I cycled everywhere. Fitness just happened whilst I was seeing how many of my mates I could jump over. But as I got older my life got bigger and the all beer and pizza diet started to take its toll.
To cut a long story short I joined the gym at the university where I worked – and I loved it. But, it was right on campus and it was incredibly good value.
Then I moved to back the country and the nearest gym was not only a 20 minute drive away, I caught the manager sucking a lemon before he told me the price. It wasn't very good, either. The economics, both of money and time, switched. It became far more effective to have a home gym.
The problem is that home CV equipment just isn't made for people like me. I'm a serial killer of exercise bikes, cross trainers and especially treadmills. In order to keep the price down, they have to make economies. I understand that. Actually, if it gets people who would otherwise do nothing up and active, I support that.
Sadly, as you move up the price band, they add features instead of making the machines stronger and more durable – and that really pisses me off.
The only piece of equipment that's survived is my turbo trainer and I hate it.
Yes, I know, you can get scenic ride apps, you can ride with other people on Zwift and yes, I know, it doesn't have to be a race. There are even blog articles on how to set up your bike and a turbo trainer to use with the Peloton app.
I was pretty determined to make it work for a while, but cycling magazines explain my problem in a nutshell, "A turbo trainer is a great way," they say, "to get through the winter".
That's not what I'm trying to achieve; you see I was never a cyclist. I didn't obsess about the Tour de France or the Giro d'Italia when I was a kid, I read about people crossing the Sahara, or riding through Nepal. I wasn't really interested in racing bikes, I wanted to use a bike to do mad things and have crazy adventures.
You do not have crazy adventures on a turbo trainer. Well, not if it's mounted on a flat surface, anyway.
The advantage of a spin bike is that it's a very simple piece of equipment. This means it's possible to build something of professional gym kind of quality at a price that's accessible to the home market. Something that I really, really hope I'm not going to break.
When I say "accessible", the up-front cost of Peloton is still a little eye-watering. It's the main reason why I had initially discounted the idea. The economics of it only work if you think about it long term.
There used to be a dedicated spin gym only a few miles away. They charged £6 a class. At first that sounds cheap, but if you do 4 classes a week that's £104 a month. A Peloton subscription is £20 a month, but you have to find somewhere in the region of £2000 in set-up costs (or take a finance option). Working on that 4 class basis, that means you break even in about 2 years.
The cheapest local gym subscription I could find was £63 a month for a limited, "off peak" deal. If we equate the restrictions on that account with those of Peloton, then the break even point is 4 years. I know a lot of people who are paying £100+ a month for gym subscriptions they use at most twice a week.
There's another thing to consider; will other members of your household use it? If you're prepared to stump up £40 a month you can load them all up. As I'm married to an even bigger spin-bunny than me, it turns out to be a very attractive option.
Now, I have an admission to make. I've been writing this article like it it's my journey. In many ways it is, or it's my half of the journey, but it wasn't me that pushed to sign up to Peloton, it was my partner. In fact, I was pretty heavily against it – until I started looking at the longer term economics. For us it just made sense, we never really used much in the gym that we can't in some way replace with the Peloton bike and other classes from the Peloton App.
Your economics may be different. If you're a circuits person, or more heavily oriented towards weight and strength training then the comparison will be more difficult and the numbers might not work for you.
It seems like the numbers work for us and a first glance at the app looks promising. Will it work out? You'll have to wait 'til the next update!
---
Be sure to check out the other articles in the series: