Reading Time:
8
minutes
January 2021 – previously: The Peloton Diaries: First Week
Four months, 67 hours, 2,000km and 55,000kcal after my first article, how am I finding Peloton? Well, the stats are a good hint.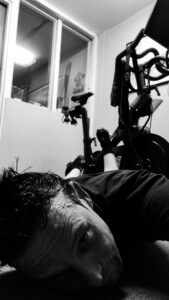 Let's cover the boring material stuff first;
The bike hasn't missed a beat.
The pedals aren't that annoying, actually.
I do want to get a better sound option, but that's because music has become a big part of the experience.
I have used the wired Ethernet port, but that might just be my Wi-Fi.
That's it for the bike. It's a simple machine, built solidly. Most of the moving parts are either standard cycling components or common industrial ones, so it should be easy to fix if I ever did break it.
The tablet is basic, but works fine. There have been a few glitches. I have had to reboot it maybe 3 times since I've had it – pretty good for consumer tech. There have been a few quirks, but the updates are frequent and they're usually fixed quickly.
This isn't really the point though, is it?
We Ride As One
One of the key concepts that I missed is that it's "One Peloton". If you're happy to ride (or do any of the other classes) side-by-side with others, regardless of their sex, religion, race or any other factor, you're welcome in Peloton.
The result is that the people who turn out to train with everyone from everywhere are the people you'd expect to want to train with everyone from everywhere. You're not going to feel like anyone is sneering at you, especially not the instructors.
It doesn't matter if you're smashing out 300W averages or if just getting to the end of a ride is a challenge. It doesn't matter if you're fully fit or recovering from an injury, or an illness or if you have a disability. None of the things that might make people nervous about going to a gym or a fitness class matter. You clip in, you ride.
Live Classes and That Leaderboard
You can get misled by the advertising. Yes, there is a leaderboard, both for live rides and recorded classes. You can filter it by age, sex, hashtags, just your friends, etc. if that helps, or you can just dismiss it. At the start of many of the rides the instructors tell you "the leaderboard is on your right, if it helps you, use it, if not, get rid of it".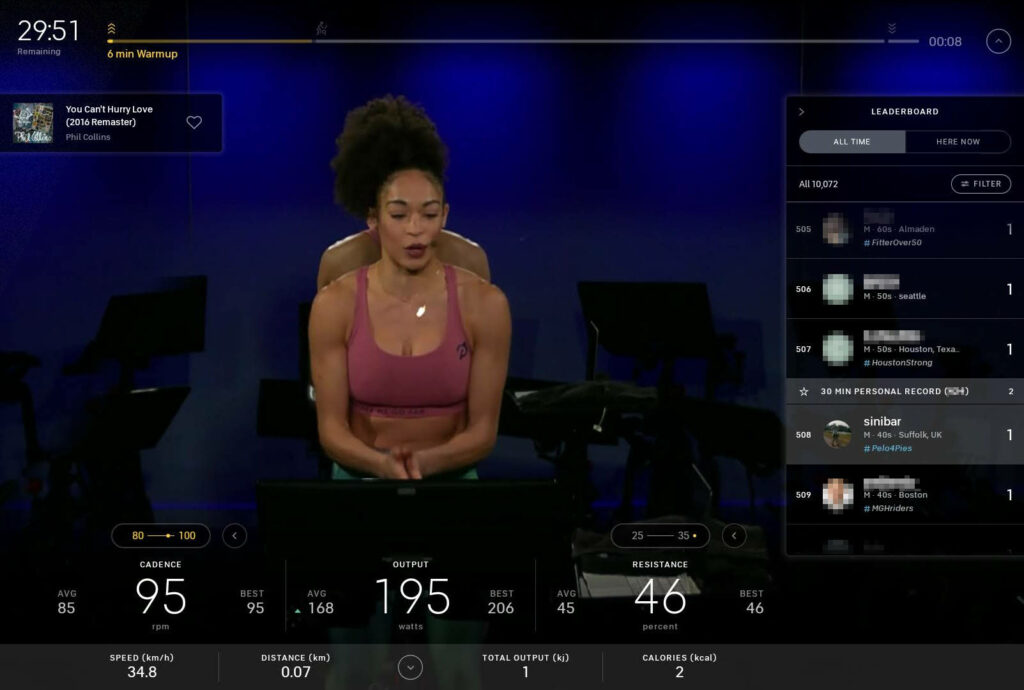 It's not a competition unless you want to make it one.
That might be why I haven't found live classes as useful as I thought I would. The flip side of that is that I've found the recorded classes way more useful. There's always a constant supply, and the "here now" function of the leaderboard means that if you want to compete, you can.
What might be a key factor for many is the social aspect of live rides. You can sign up for a live ride in advance, which is a powerful psychological tool for helping you onto the bike. I've also heard of people using hashtags and creating social groups. If you commit to ride with a bunch of other people, again you're more likely to clip in than if it's just you.
I've always been a lone wolf cyclist however, which is possibly why my biases toward the classes are the way they are.
Some of the Peloton imagery is still rather stereotypical for the health and fitness industry. To me it comes across a bit like those car adverts; you know the ones that don't tell you about the product but do imply that if you buy one you'll suddenly start attending posh dinners at swanky hotels with lots of people who appear to have stepped straight off the front page of "Good Looking & Loaded" magazine.
For some people I'm sure that advertising works, but if it doesn't connect with you, it can have entirely the reverse effect. Don't judge a book by its cover. I was worried at the start, turns out that Peloton is pretty much the most accessible and least scary fitness thing I've ever signed up to.
It's Not Just Spinning
Yoga, Pilates, Barre, floor cardio, running, strength, meditation; Peloton offers a lot of different classes, all with the same ethos.
For me the driving force is the bike, but cycling has been a constant in my life since I was 3. I do use the other classes, but I kind of view them as the bonus section. That said, if you are a person who likes floor classes, then taking the bike out of the equation the maths of a Peloton subscription still work. For me, without the bike, I'm not so sure it would.
If you're already a cyclist with a turbo trainer or other home setup, you can hook your own bike up to Peloton (Google will tell you how). You don't get all the features of the bike, but if you want to add some variety over Zwift, that might be another reason to take a look at Peloton.
Echelon & The Competition
This is starting to sound like an advert, so it's a good time to mention that Peloton is not the only player in this market. When my partner and I looked at it over summer 2020, we thought it was best for us. Really, I've become a huge fan of the model and I can only speak from experience – which means Peloton.
I know Echelon are offering a similar model of operation; bike, spin & other classes. It might have a similar ethos; the classes might be as good. If you were thinking about Peloton it'd be silly not to devote some time looking into Echelon.
Similarly, if you're a already a cyclist and you weren't previously aware of Zwift, you should look into that and the other, similar platforms.
Another option for cyclists is Sufferfest. Appealing name, I know, but it gets good reports.
Don't get too hung up on the idea of cycling however, Peloton isn't really a cycle training system – it's a gym replacement based around spin training.
The Instructors
You'd think that Peloton would have scoured all the best gyms and personal trainers, trying to tempt away the top instructors.
Certainly there is that, Christine D'Ercole, for instance, is a global track cycling champion. What might surprise you, however, is that you'll also find her over at IMDB. That's her on the left, in Dead Poet's Society.
The Peloton instructors are a mix, some directly from the fitness industry but many from the world of entertainment – dancers and other physical performers that rely on their fitness.
Unlike a local gym instructor, the Peloton team don't have to keep grinding out class after class. They can take time to really think about the music, what they're going to say and do, how they're going to put together a show that will not just help you achieve your fitness goals but keep you entertained whilst doing it.
Sure, if you want a pure fitness instructor experience you can find that, and maybe those classes might be very slightly more effective. You can certainly follow a climbs track or HIIT or Power Zones or pure Tabata if you want.
Or you can take a music ride or a live DJ ride or a themed ride…
This is what surprised me, because, considering my history, I'd rather assumed that I'd be HIITing myself into a gibbering wreck 5 times a week.
That's not what's happened. Music has always been a big part of my life – and Peloton has quite a range, from Jamaican Dancehall to Blues, from 1980s to EDM. I don't need a plan when I clip in, I know there's always going to be something; that is if I don't fancy embracing the express route to oblivion via the medium of Tabata.
Or, of course, there's always the option of a Metal class with Kendall Toole, which qualifies as both a music ride and an express route to oblivion.
That, of course, is why I want to install a proper sound system; because if you want it to be, Peloton is a form of entertainment.
But Does It, You Know, Work?
It's difficult to say whether something works or not if you're not sure what you were trying to achieve.
I know a lot of people are interested in their weight, but I've never bothered to weigh myself so I can't tell you. I do now need a belt for a lot of trousers that in October I didn't – and that I haven't exactly been dieting between then and now.
Am I fitter? Definitely and Peloton is very good at supplying metrics for that. Here's the output from a bunch of 30 minute rides from October to now. It's exactly the curve you'd expect.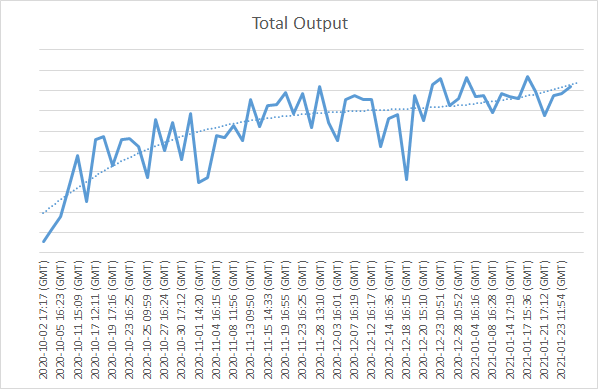 Am I stronger? Very noticeably. What's more it's useful strength, as I said in my article on staying healthy during COVID, "there's no point having iron biceps if you're all wobbly in the middle". Mixing up pure strength training with cardio and something like Yoga makes a big difference.
None of these are the real question though. It's easy to look at yourself and think you'd be happier if you lost a few kilogrammes, or you were a size smaller, or if you knocked 10 seconds off your best time. Perhaps, but it doesn't always work like that. Sometimes achieving those goals doesn't make you happy and sometimes you can be happy without achieving those goals.
Someone at Peloton has been reading their text books, because the entire system is littered with behaviour change techniques to promote a healthier lifestyle. We can be cynical, of course, and say that this is just good business; the healthier your lifestyle the more you're likely to (continue to) consume their products. We can go further, some supposedly reputable corporations in the gambling industry have been caught using algorithms that identify their most vulnerable customers and actively encourage them to gamble more.
We are right to be wary of behaviour change techniques, but everything I've seen in Peloton appears straightforward: it's giving you the tools to better achieve your own fitness and lifestyle goals.
All of which leaves us with a relatively simple conclusion: mechanically it works. By that I mean that I'm stronger, fitter, I have better posture and I prefer the way I look now. I also don't resent putting the hours in. It's tough, but it's not a slog – in fact a lot of the time it's the reverse, I actually look forward to getting on the bike.
Am I happier? And if so, can I attribute that to Peloton? That's a really difficult question for someone with a scientific outlook. None of us are immune to our environment and living on the Coronacoaster can throw us all over the place. I can say that life seems easier now than it did in October, and with restrictions being tighter, Peloton has to be a strong candidate for why.
All things considered then, giving the matter all due consideration, I think the answer is yes; it, you know, works.
---
Next time I'll talk more about the socials and Peloton culture.
---
Be sure to check out the other articles in the series: