Reading Time:
3
minutes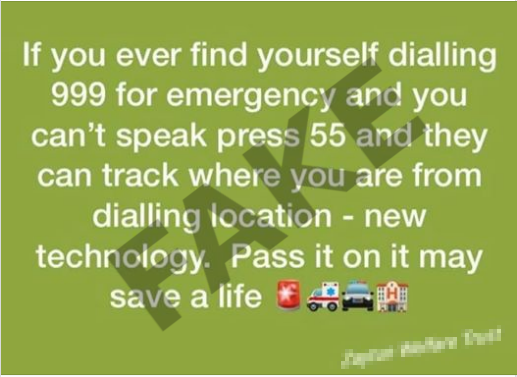 You may well have seen this meme going around Facebook and other places. As a general rule, unless you can trace information like this back to an actual emergency service or other reputable outlet, you should assume that it's fake.
In this case it's inaccurate, but it does contain some information that's true.
The Full Fact article does a reasonably good job of explaining, but I can add little more detail from a different perspective.
When you make a 999 (emergency) call in the UK, the emergency services have access to some extra information about that call that they don't get for other calls. This happens automatically whether you dial 55 or not.
If you call from a land-line or telephone box, the emergency service has access to the subscriber details for that line. This includes the name of the person that the line is registered to and the address.
If you call from a mobile, the situation is a little more complex. The emergency service can request the location of the mobile phone – and usually does so automatically. That request gets passed to the mobile phone company. Before the days of GPS, the mobile company would return, if it could, an estimate of the location based upon the signal strength and the location of the cell masts nearest to the phone. It can sometimes provide quite accurate results, but other times it's not so good.
The mast information is still sent to the emergency services. Now however almost every mobile phone has GPS so new methods have been developed so that the phone can also send its location data all the way through to the emergency service control room. Not every phone can do this, so you can't rely on it, but the more time that passes, the more phones are coming on-board.
It's worth noting that a mobile phone's own location data isn't always accurate. It's usually pretty good, within a few metres, but there are a number of factors that can throw it off, sometimes by just a few metres, but I've seen examples of phones thinking they're on a different continent.
Again, to be clear, you do not need to dial 55 or perform any secret handshake to make your location available. If your phone can do it, the mobile network can do it and the emergency service can do it, then your phone's location data gets sent to the control room. It's all automatic. This is what I think the meme is talking about as "new technology". Otherwise, the mast data is almost always available.
Where dialling 55 comes in is if you're in a situation where you can't talk. If you're hiding from an attacker for instance you might not want to talk as it may alert the attacker to your location. The mobile operator may well ask you to dial 55 if you're there and are in danger. That's the point of dialling 55 – it lets the operator know that, although nobody is speaking, you have not dialled 999 by mistake.
I should point out here that the emergency services do not always respond to silent 999 calls. They have to assess each call individually and decide whether to respond, whether the person talks or not.
Ultimately then there is some truth to the meme and I suspect somewhere, underneath it all, someone knew what they were talking about. It looks however as if it's been through a few people and by the time the meme was made some of the messages have got a bit mixed up.
To conclude:
The emergency services can always get your location and usually do automatically. You do not have to dial 55 to make that happen.
The "new" bit is that the emergency services can now get the location data direct from many smartphones, instead of having to rely on mast data.
Only dial 55 if you are unable to speak for some reason. The operator may ask you to do this anyway if you don't speak. If you can speak however, do.
Finally, don't assume when you call that the emergency services do have your location. Things can go wrong, the more information you can give them over the phone, the better.


---
Tom Fosdick is a software engineer who is responsible for the system that several UK emergency services use to get 999 call locations.